With much excitement we share that the Home Routes series is back in the Gallery!
Season 15 22/23 had a great start, welcoming T.Nile and Murfit and Main to Dawson already! But wait! There is more.. On Sunday May 14th, Kael Sauerborn will be joining us at the Gallery for a live performance at 7:00PM.
Kael is a self-taught instrumentalist and singer-songwriter originally from Gimli, Manitoba. Growing up on Willow Creek in the quiet country, to living in Winnipeg and Edmonton, he's been a part of many circles. While music was his first passion, he was also an athlete- and after a life- changing injury music became even more of a saving grace. With influence from honest songwriters such as Hozier, City and Colour, Dermot Kennedy, and Foy Vance, he's been unafraid to comment on life through his onw lens. Combining original, dynamic guitar playing and silver-toned vocals, Kael brings a special sound. His lyrical themes of hope, optimism, and self-surrender paired with his open book nature, gives listeners permission to feel seen and heard in their own struggles.
With features on CBC Radio, performances with the Winnipeg Symphony Orchestra and Winnipeg Folk Festival, Kael is steadily carving out a space for himself as a songwriter. While currently his songs can only be heard live, his first EP project is set to release for mid-late 2023.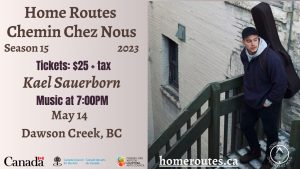 You can learn more about the Home Routes by visiting their website!!
www.homeroutes.ca
Tickets for this concert can be purchased in advance at the Gallery for $20.00 or at the door May 14th for $25.00
Stay up-to-date for more events and live music happening at the Gallery by following our
Facebook page
as well!
Stay tuned for more Home Routes concerts! September 2023