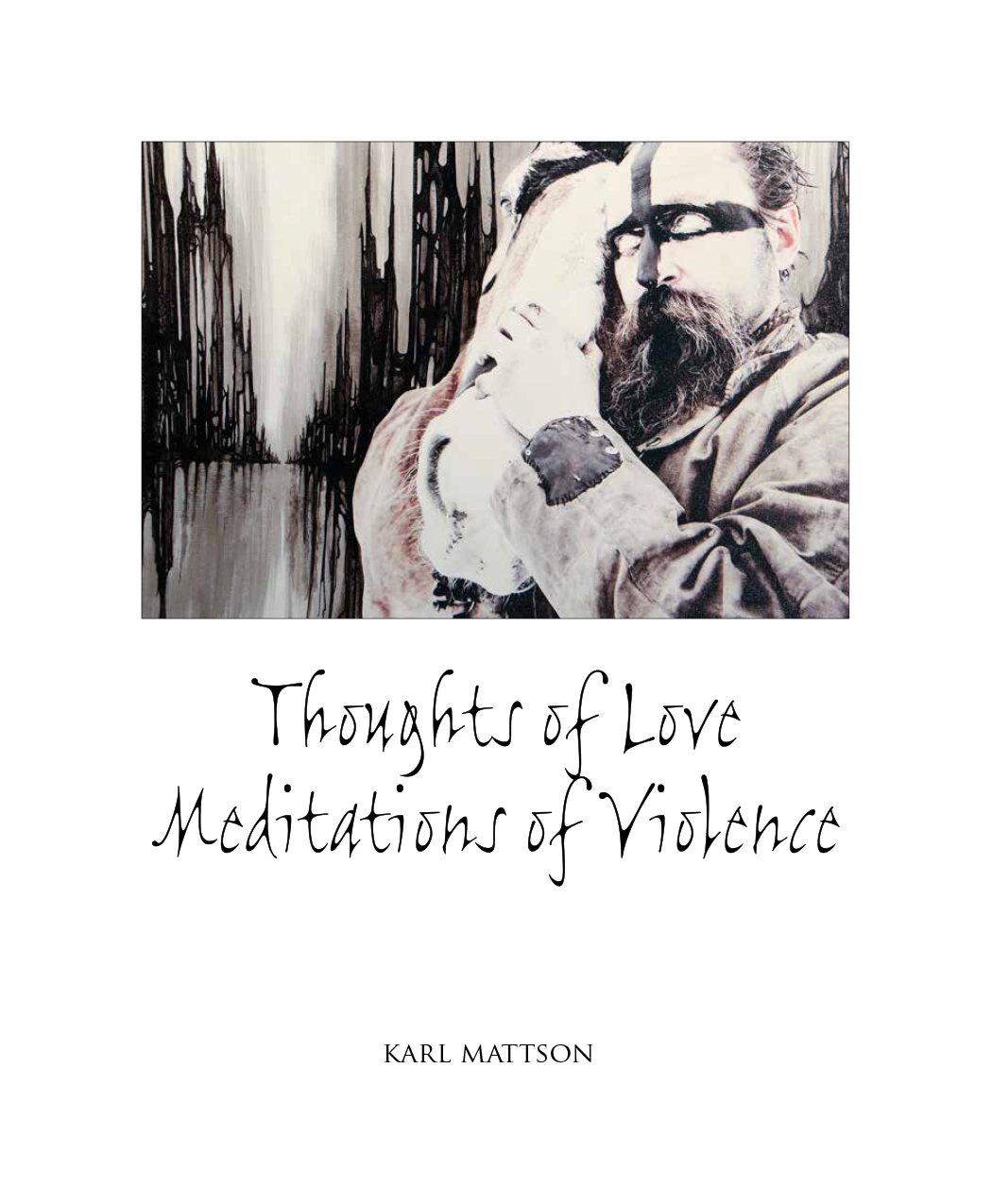 By Haley Bassett, July 31st 2020
Hello, dear reader, and welcome the the Northern Arts Review! My name is Haley Bassett and I will be your local arts columnist for the foreseeable future. The NAR will be a weekly arts column covering regional art news as well as news from the BC, Canadian and global contemporary art scenes. My goal with this column is to better acquaint folks in the north with their local artists and spread the word about arts programming and events happening in the region.
For its very first piece, I was able to catch up with local heavy-hitter Karl Mattson to speak with him about his upcoming show, Thoughts of Love, Meditations of Violence, opening at the Dawson Creek Art Gallery on Friday, August 7th. Stay tuned for next week's column covering mary mottishaw's show meander.
Karl Mattson is a well-known name here in Dawson Creek. His distinctive work is bold, dark, and at times macabre with an industrial edge. His projects are often large in scale, highly ambitious and logistically complex. He incorporates industrial processes such as welding and fabrication, and draws on his lived experience as a farmer to create his unique oeuvre. He is also known to occasionally light his sculptures on fire, which always makes for a spectacle. 
The dichotomies of birth and death, creation and destruction, as well as love and violence, have been recurring themes in his work for years. Mattson has also been a vocal critic of the oil and gas industry, and through his work he has articulated his concerns about the heavy fracking activity taking place outside his front door in a potent and astute manner. However, his latest work turns away from his characteristically brash MO, and moves towards the introspective and meditative.
Instead of skewering larger social issues, this time Mattson has sharpened his focus on the interpersonal and the internal. Thoughts of Love centers on people in his close inner circle and his community, who are the subject of his portraits, and visualizes their lived experiences with love and violence.
For Mattson, everything in life, even love and the creation of art, is tinged with a degree of violence. As an example, he spoke of the extraction of the iron ore from the earth that he uses in his work, and how, even though that piece of art was made with love and good intentions, there is an inescapable degree of destruction, or violence, necessary to create it.
He maintains that this equation plays out in all aspects of life, including interpersonal relationships as well as our relationships to the environment, Thoughts of Love offers an open-ended inquiry into this paradox, however, rather than concrete answers, inviting the viewer to find their own interpretations.
The body of the work on display consists of a variety of media, including found objects, audio and video, mixed media photography and pen and ink. On opening night only, viewers can step inside Mattson's Chamber, an interactive art piece made of an electrical transformer box that contains audio and video work of the Peace River.
Thoughts of Love is the progeny of Mattson's residency on board a Barquentine ship in the arctic circle combined with work created through the Artist in Residence program, organized by the Peace Liard Regional Arts Council and awarded to Mattson in the summer of 2019. The annual program includes a three-week residency with studio access, a solo show, a CARFAC exhibition fee, a subsistence fee as well as mentorship by an industry professional. Applications are now open for the 2020 edition until August 15th. Do check out the PLRAC website for more information.
Mattson's mentor last year was Paul Crawford, the Penticton Art Gallery's lead curator. Crawford also mentored artists mary mottishaw and Barbara Swail, whose shows meander and Solistalgia will open alongside Thoughts of Love, Meditations of Violence at the Dawson Creek Art Gallery on Friday, August 7th, 5:30PM to 9:30PM. Due to COVID-19 restrictions, please call the gallery at 250-782-2601 to book a time to attend the opening.
Do you have an artistic endeavour you would like to promote? I would love to speak with you! Please email me at programs@dcartgallery.ca.